1
Magical Times
6 guests
|
2 Beds
|
2 Baths
Rent a beautifull 2 beds condo in the building #8 next to the pool and clubhouse at Windsor Hills Resort, 2 miles from Disney! ** Free Internet** You'll find all the comforts of home in this fully themed furnished 1081 sq ft condo !. We are located next to the clubhouse!
Category: 2 Bedrooms Condos
2
My Magic Home near Disney with Free Internet
6 guests
|
2 Beds
|
2 Baths
This two-bedroom condo will be your magic home while you are visiting Mickey, Donald, Pluto, the Princesses and the rest of the Disney family. A comfortable apartment, located on the third floor (serviced by elevators), that offers FREE wireless and wired internet access, FREE long distance call...
Category: 2 Bedrooms Condos
3
Great Rate, Top Fl End Unit, Open View, Close Pool, WiFi, US/CD Call,HDTV
6 guests
|
2 Beds
|
2 Baths
Exceptional top floor end unit capturing those beautiful evening sunsets and resort/recreational area views awaits you. This 2 bedroom, 2 bath unit has easy elevator access and is a short distance to the pool/clubhouse area. Brand new Florida tile. Master BR has King Size bed with private bathroo...
Category: 2 Bedrooms Condos
4
FREE Phone & Wireless Internet - Best Rates
6 guests
|
2 Beds
|
2 Baths
Windsor Hills is a 5 star luxury condo rental resort located 2 miles from Disney World. We have a professionaly decorated 2 bd./2ba first floor condo (1112 sq ft.) located in building 1. A 3 minute walk to the clubhouse. Why stay in a hotel room when you can stay in a luxury condo for the same p...
Category: 2 Bedrooms Condos
5
Shaun & Elaines Windsorhillscondo
5 guests
|
2 Beds
|
2 Baths
This luxury Condo self catering accommodation at the heart of the tourist area,Windsor Hills is one of the closest gated communities to the Disney area. With elevators to all Condos our 3rd floor accommodation comprises of Dining area, Lounge, Fully equipped Kitchen, 2 Bedrooms, 2 Bathrooms, Terr...
Category: 2 Bedrooms Condos
6
Stay at Disney Voyage & watch Disney's fireworks for free!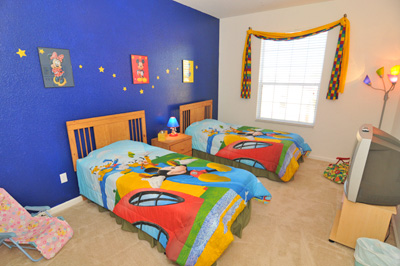 guests
|
2 Beds
|
2 Baths
The spacious living area opens to the lanai. The master suite has a king-size bed with private bathroom. The second bedroom has two twin beds and a very spacious second bathroom. The unit has free wireless high speed internet. Free long distance in entire USA, Canada and Puerto Rico. There are 3...
Category: 2 Bedrooms Condos
7
Beautiful Kid Friendly Disney Themed 2BR Condo
6 guests
|
2 Beds
|
2 Baths
Gorgeous 2BR/2Bath fourth floor condo- Just like the penthouse. Close to the pool and clubhouse. Sleeping for six! Spacious Living Room has plenty of sitting room with sofa & love seat. With a 50" Flatscreen Smart TV & DVD player. Comfy Master Bedroom great for unwinding has King Sized Bed and ...
Category: 2 Bedrooms Condos
8
2 BEDROOM CLOSE TO POOL - DISNEY - FREE INTERNET - HDTV
guests
|
2 Beds
|
2 Baths
2 BEDROOM - ALL NEW UNIT 402! - CLOSE TO POOL - FREE HIGH SPEED WIRELESS INTERNET - FLAT SCREEN HDTV, DVD PLAYERS ALL ROOMS - ELECTRONIC DOOR LOCK (NO KEYS NEEDED) - HAIR DRYER - PRIVATE WASHER & DRYER IN UNIT - FREE PHONE CALLS USA CANADA - NO "SECURITY" DEPOSIT HELD - ENTIRE CONDO DISN...
Category: 2 Bedrooms Condos
199 Sites In Our Database
42hits -Reset every 720 Hours (30d)
Last Reset: 30.10.2017 20:25 ART / Next Reset: 29.11.2017 20:00 ART
Last Updated: 19.11.2017 15:34 ART / Next Update: 19.11.2017 22:57 ART
Edit/Stats | Search |
2003-2016
www.windsorhillsrent.com
All rights reserved
This site advertises rentals located in the Windsor Hills Resort in Kissimme, Florida. This site is not run by Windsor Hills and has no official affiliation with the Windsor Hills Resort. No comments or information presented on this site is represented by the Windsor Hills Resort, its staff or any of its Home Owners Associations.
Privacy Policy